Occupational therapists across Livewell Southwest have been raising awareness of the valuable role they play in supporting people to lead healthy, independent lives.
Livewell Southwest employs more than 130 occupational therapists who work in teams alongside nurses, social workers, physiotherapists and health care assistants across physical and mental health services.
This week they've been celebrating National Occupational Therapy Week with events and displays with the campaign theme #Small Change Big Impact.
Occupational therapists in the Community Learning Disability Team illustrated the diversity of their work with a display in the reception area of their base at Westbourne.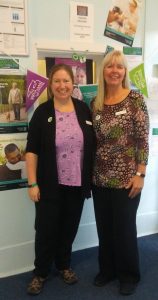 Sharon Smyth, right, and Rebecca Bond with their display at Westbourne
OT Sharon Smyth said: "As well as the bunting, posters and other visuals, we have over 20 examples of "small change, big impact" that showcase the diverse work that the occupational therapists do here. The display is in the reception area so service users, carers and staff can all see it and be more aware of what we do and the positive impact we have made."
OTs from the Community Therapy Teams visited Scott Medical and Healthcare College to take over health and social care lessons for all year groups.
Scott College is a small, specialist mainstream state school which blends traditional teaching with project-based learning and work experience, in partnership with local employers including Livewell Southwest.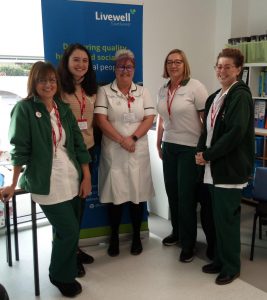 Spreading the word at Scott College are OTs, from left to right, Karen Dewdney, student Emily McVeigh, Anna McVeigh, Tara Rodgers, and Lisa Fleming
Anna McVeigh, OT, Specialist Occupational Therapy Team, said: " As part of increasing awareness of OT as a profession, we were able to provide students with an opportunity to try a wide variety of activities which OTs might do as part of their job role, including, moving and handling, hoisting, splinting, falls management, teaching dressing techniques for increasing independence around personal care, cutlery assessments and relaxation exercises for helping people with managing anxiety and respiratory conditions.
"We had really good feedback from students and staff as well as colleagues who enjoyed the opportunity to promote their profession."
Anna organised the day and was joined by OTs Karen Dewdney, Tara Rodgers, student OT Lisa Fleming and Emily McVeigh, a Scott College student currently applying for an OT degree course.
In South Hams, OTs staged a display of their work at South Hams Hospital, and visited a local school's careers day to promote occupational therapy as a profession.

OTs in South Hams took part in a number of events 
In Tavistock, the team took the opportunity to run a display and a series of drop-in sessions in the town centre to raise awareness and signpost people to the support available.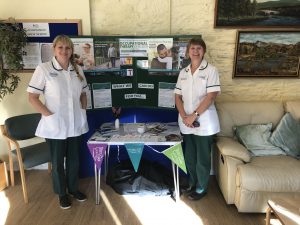 And OTs at Glenbourne raised the profile of the work they do every day in a mental health setting by incorporating OT work into therapeutic group activities and sharing feedback from people who have reaped the benefits of the team's input.