Livewell Southwest's mission is to support people to lead independent, healthy lives in the place, and the community, in which they live. Having a strategy for the future means that we can prioritise how we will continue to improve the lives of the communities we support, and shape the development of our dedicated staff.
We've refreshed our strategy to keep in step with the changing needs of the population and wider health and care priorities. Our strategy is guided by our vision, which is to be the very best at helping people to live well.
This is underpinned by our values – we are always Kind, Respectful, Inclusive, Ambitious, Responsible and Collaborative – and the four strategic aims we have set for ourselves.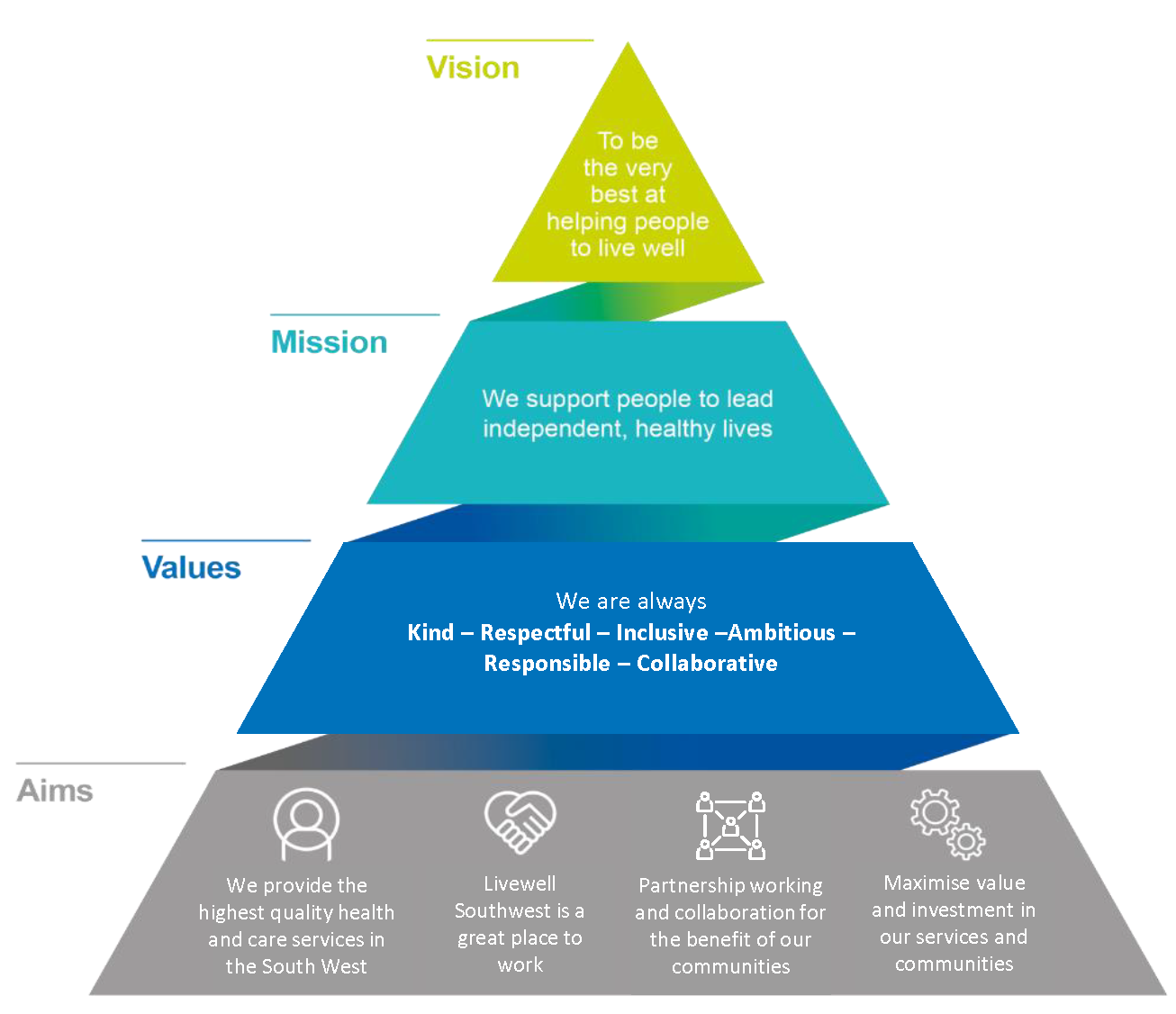 Our vision
To be the very best at helping people to live well.
Our mission
We support people to lead independent, healthy lives.
Our values
Kind…Respectful…Inclusive…Ambitious…Responsible…Collaborative
Our aims
We provide the highest quality health and care services in the South West
Livewell Southwest is a great place to work
Partnership working and collaboration for the benefit of our communities
Maximise value and investment in our services and communities
Incorporating Our 2023/24 Business Plan into our 2022-27 Strategy
Our Business Plan for 2023/24 has been refreshed, setting out priorities for the year ahead in line with our 2022-27 Strategy.
This video gives an explanation of our aims for the coming year, while looking at the successes of year. Slides used are available in summary format.
Enabling Strategies
Our Workforce Strategy 2023 – 2027 aims to ensure that Livewell Southwest has the necessary workforce to provide high-quality care to all those who use our services now and in the future. The strategy includes initiatives to attract, retain, and develop our health and social care professionals and all those who work to support them. Click here to view.
We have also published our People Strategy for 2021 – 2024, which you can view by clicking here. As an employer, we recognise the importance of kindness and listening to our people in transforming their experience of working at Livewell Southwest. As a result, this strategy has been heavily influenced by feedback from our workforce, both formal and informal, in addition to national and local strategy
We are proud to be the main provider of mental health services to people in Plymouth, and have also published our Mental Health Strategy for 2019 – 2024 which you can view by clicking here. This document outlines our key priorities for the next five years which will guide our work.