Part of CAMHS – Child and Adolescent Mental Health Service

Supporting the emotional wellbeing of babies and young children by caring for their most significant relationships – from conception to starting school.
What is Infant Mental Health?
Infant Mental Health is the capacity:
to form close relationships with others
to recognise and express emotions; and
to explore and learn about the environment.
These capacities grow and develop through babies' interactions and experiences with their caregivers. They can be impacted by stresses on the parent-child relationship or by difficulties experienced by the child and / or parents.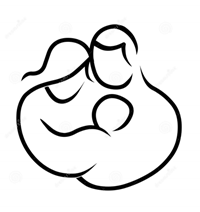 Who works in our pathway?
Our small, multi-professional pathway consists of a Clinical Pathway Manager, Child and Adolescent Psychotherapists, Parent-Infant Psychotherapists, a Clinical Psychologist, Infant Mental Health Practitioners and an Administrative Supervisor.
What we offer
We offer a range of evidence-based interventions and work flexibly, together with caregivers and children to try to best meet the needs of those in our pathway.
Below are some examples of the types of work we offer:
Working within the I-Thrive model
Advice to parent / carers
Consultation to professionals
Training for professionals
Antenatal Psychotherapy
Parent-Infant Psychotherapy (individual or group)
Child Psychotherapy and Parent work
Psychological Interventions, including low intensity CBT
Art Psychotherapy
Video Interaction Guidance
Circle of Security
From Timid to Tiger (group for parents of children with anxiety)
We work using either face to face; video or telephone contact, depending on clinical need.
How to Request Involvement from our service
We accept self-referrals however we recommend any Parent/Carer contact us to discuss the difficulties initially. Staff will guide you on the next steps. This could be signposting and/or completing a request for involvement form. You can find the form to download on the "Request Involvement" tab on this site and can contact us by emailing:

[email protected]

Any professional working with families can request involvement by completing a form with parental consent. The form can be downloaded via the "Request involvement" tab on this site or contact us via telephone/email to request a copy. The completed form should then be sent to:

[email protected]
What happens next:
Receipt of request for involvement form
Discussion to see if appropriate:
If Yes- Child's name added to our waiting list for assessment /consultation
If No– Possible request for further information or signposting to other services.
Following assessment we may offer an appropriate intervention; signpost or discharge from our service.
Who can benefit from our service?
Parents and carers, including those expecting, who are experiencing difficulties in their relationships with their babies, young children or unborn children
Parents/ carers of young children and unborn babies wishing to improve communication and reduce stress and conflict within the family
Parents/ carers with concerns about the potential emotional impact of their own experiences on the relationship with their babies or young children
Young children who are experiencing significant emotional difficulties
Links to some of the work we offer
Contact
CAMHS Infant Mental Health
Tamar Folk Children's Centre
St Budeaux
Plymouth PL5 1RH
Tel: 01752 435125
Email: [email protected]
Survey
We would be grateful if you would complete a survey based on your experience of this service. Click here or use this QR code: