This week, Livewell Southwest is celebrating the contributions made to research as part of International Clinical Trials Day, 20 May.
As part of our celebrations, we're sharing the experiences of one of our patient's – Barry – about why he signed up to take part in a research study which Livewell Southwest has been part of.
Barry, a long-time sufferer of diabetes was last year involved in a study aimed at those who also have diabetic peripheral neuropathy.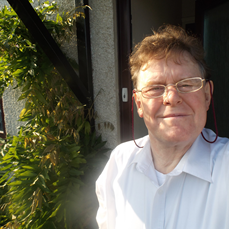 (Pictured: Barry has been taking part in research aimed to those with diabetes.)
This is where the leg nerves carrying sensory information are affected and it can lead to foot ulcerations and amputations.
The study, carried out by Mr Vasileios Lepesis, lecturer in Physiotherapy at Plymouth University, assessed whether ankle and big toe joint mobilisations and stretches in people with diabetic peripheral neuropathy could improve their joint range of motion and reduce pressures.
Barry is no stranger to taking part in research studies.
Having already taken part in research on his eyes a few years ago which has improved his macular condition, he was interested to see if a piece of research aimed at diabetics would also help.
So when he was approached by the podiatry team at Mount Gould, he didn't hesitate in saying yes.
Barry has been a diabetic for the past 23 years and has been attending the podiatry clinic at Mount Gould regularly for healthcare checks on his feet.
The podiatry clinic had signed up to be a part of Plymouth University's research study and identified Barry as a possible patient.
He said: "I'd taken part in research before on my eyes and I'd found it really useful because I was seen more regularly and my condition has also improved vastly.
"The podiatry team are fantastic and when they told me about this piece of research I thought it sounded very interesting so I didn't hesitate in saying yes."
Those who were signed up to take part in the research were split into two groups – one group would be asked to carry out the mobilisations and stretches at home, and the other group would continue their regular care.
Barry was one of the patients selected to carry on his treatment as normal, but he did have to visit the university so basic exams could be carried out on him.
He added: "It was really fascinating to take part in the research and I'm looking forward to finding out the results.
"I was pleased to be able to take part and give something back by contributing to research that could one day make a difference to the lives of others."
Rena Truscott, senior research practitioner at Livewell Southwest, said: "Livewell is proud to be actively involved in research and of the contribution our staff and patients are making to research.
"For many people, taking part in research can be an extremely positive experience due to the enhanced treatment received and the opportunity to contribute to the development of improved treatments for all. People taking art in research also say it gives them hope for the future.
"As an organisation, we are carrying out research in a number of different areas including dementia, mental health and elderly rehabilitation.
"Anyone interested in finding out more can call us on 01752 434498 or you can come and visit us by asking to meet the research team by visiting the reception at the Local Care Centre on the Mount Gould Hospital site."