Projects to help adults and children in need in Plymouth have benefited from a cash boost thanks to Livewell Southwest switching paper payslips for digital.
As a social enterprise, the Plymouth health and social care provider is committed to reducing its carbon footprint by being paper-free whenever possible.
And changing the way its 2,900 staff get their payslips has also saved money – which has been donated to local projects in line with Livewell's policy of giving back to the community whenever possible.
Staff were asked to nominate worthy causes and as a result Shekinah and Together for Childhood each received £500.
Shekinah provides opportunities for people in recovery or seeking recovery, including homelessness, drug and alcohol issues, offending behaviours or mental ill health.
Andy Kebby, Shekinah's  events and community manager, said: "A huge thank you to all the Livewell staff who nominated Shekinah to receive these funds. This money will go towards filling our freezer with meat as this is one of the most difficult items to get donated but one of the most essential food items we use."
For more information about Shekinah visit: https://www.shekinah.co.uk/
Together for Childhood is an NSPCC project which brings communities together to prevent child abuse. Ernesettle was chosen as a pilot location for this innovative partnership which is developing tailor-made ways to make our communities safer for children.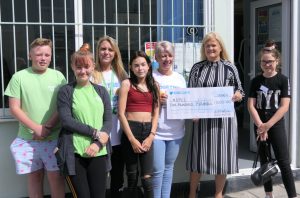 Partners include the NSPCC,  Plymouth City Council, Plymouth Safeguarding Children's Board, safeguarding partner agencies such as police and health, community groups, charities and the voluntary sector, schools, families and individuals and the  aim is to  build a better future for young people by identifying and addressing problems at a local level in a truly integrated way.
Oliver Mackie, strategic service manager for the NSPCC said: "Livewell Southwest are a core partner in the Together for Childhood Programme for Plymouth, helping to develop a public health approach to prevent child sexual abuse and support children and their families.
"The donation made by Livewell significantly helps us in engaging children, parents, communities and professionals in conversations about the steps and actions needed locally to enable healthy relationships and prevent child sexual abuse and provides a real boost to the project as we prepare for City wide campaigns."
For more information about Together for Childhood visit www.nspcc.org.uk/preventing-abuse/our-services/together-for-childhood/