Three apprentices at Livewell Southwest have starred in a national Government campaign highlighting the benefits of apprenticeships.
Lauren Bancroft, Millie Wheeler and Sam Westwood shared their experience of apprenticeships at Livewell Southwest, the provider of health and social care in Plymouth, as part of the 'Fire it Up' campaign.
The campaign was launched earlier this year and aims to raise awareness of the huge variety of apprenticeship options available for people of all ages and backgrounds.
There are currently 69 apprentices at Livewell, working across different areas and professions including nursing, business admin, leadership management and therapy support workers.
Lauren, Millie and Sam's videos and picture quotes will be shared on social media to highlight their experiences.
Lauren has just successfully completed the nursing associate programme, an apprenticeship to help bridge the gap between healthcare assistants and nurses.
She said: "I wasn't academic at all at school and I never dreamed I would go to university but I'm so passionate about this role and about helping my patients so it really motivated me to study.
"I've done two apprenticeships now at Livewell and I really enjoy being able to learn in practice as I'm more of a hands-on learner.
"You have the support of professionals who have been in the industry for a long time and you get paid while doing it."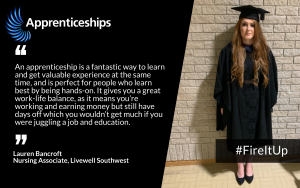 Millie is an apprentice health care assistant on Skylark Ward and hopes to one day become a midwife.
She added: "My apprenticeship is giving me that important on the job experience that will help me get there and will allow me to be prepared before going into the deep end at uni. You have all of your colleagues behind you every step of the way."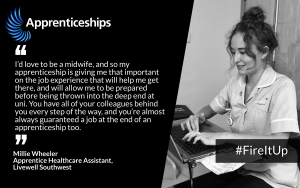 Sam has just started as an apprentice health care assistant on Plym Neuro on the Mount Gould hospital site.
He said: "Since working for Livewell, I've really enjoyed learning through practice and actually being shown how to do things, rather than just reading from a book. An apprenticeship is a good way of finding a career path."
New apprenticeships will also be offered at Livewell including the district nursing level 7 – a master's degree, a social work degree and advanced clinical practice, a new role for qualified nurses and therapists.
Gill Miller, Organisational Development Lead, at Livewell Southwest, said: "Taking part in the Fire It Up campaign was a fantastic opportunity for us not only to showcase some of our hard working apprentices but to also highlight our commitment to investing in people's futures to enable them not only to secure a job but a career.
"We are extremely proud of our apprenticeship offer and the work we are doing as an organisation to help future proof healthcare in Plymouth."
You can watch Sam's video here.