Dental students from Plymouth University were invited to Livewell this week to learn about oral health and its link to healthcare associated infections.
Karen Collard and Casie Bugg from the Infection Prevention Advisory and Care Team (IPACT) organised a day of activities which supported the students' second year Inter-Professional Engagement project. The project is delivered in partnership by Peninsula Dental Social Enterprise, Well Connected and the University of Plymouth and aims to develop an understanding of how students can support community groups, individuals, clients and service users.
Oral health is an important part of general health and wellbeing. It allows people to eat, speak and socialise without discomfort or embarrassment.
Research shows that oral care is often lacking in hospital and community care settings, especially among those people who may be unable to carry out their own personal care and rely on others for support, according to Health Education England.
The visit started with an interactive session at Cotehele, followed by a 'lunch and learn' at the Edgcumbe Unit. Students and IPACT members spent time talking to patients about brushing, rinsing and denture care. Ward staff learnt how making small changes can have a big impact on oral health and were reminded of the importance of hand washing to prevent infection.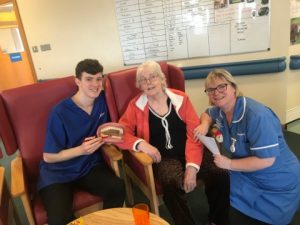 Learning how to communicate with patients is an important part of dentistry. The visit to Livewell provided the students with an opportunity to practice their skills and learn how listening and being quiet are valuable skills.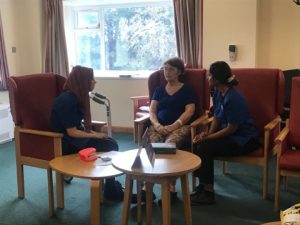 Adlee Singam, University of Plymouth student said:
"We had such an inspirational time. I feel I received more in return from the interactions we had with both the patients and care teams. The compassion, empathy, enthusiasm f of the IPACT team encouraged us to keep this at the forefront of our minds when spending time with patients.
"This was also a great opportunity to engage with patients and teams we would normally not have worked with."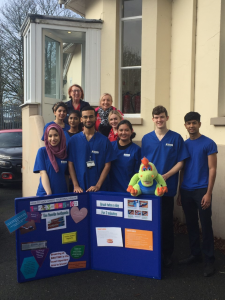 There was also an educational stand in the Local Care Centre where members of the public, staff and visitors could pick up tips about oral care and the prevention of infection.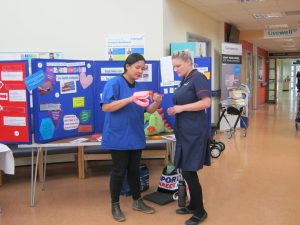 Abigail Nelder, Community Engagement Programme Officer, Well Connected said:
"It's really important that we encourage and support dental students to engage with people who may not normally access oral health care. This project provides students with the opportunity to work closely with communities, outside the clinical environment, enabling them to have a wider understanding of barriers faced by some in maintaining positive oral health behaviours and providing students with an opportunity to share vitally important prevention messages."
Karen Collard, Infection Prevention Advisory and Care Nurse said:
"The day proved to be beneficial to all patients, staff and students, raising the awareness of how important patient oral health is, and the link between good oral health and different healthcare associated infections, as well the wellbeing of the patient."
Casie Bugg, Infection Prevention Clinical Assistant said:
"The students showed enthusiasm, delivering interactive oral health learning to our patients and colleagues. The learning gained, and quality time spent with patients aiding in their recovery was invaluable. The attention to detail and useful information shared has been positive, and very beneficial for our organisation."