Livewell Southwest staff go the extra mile at work every day, but the Christmas season sees them finding ways to help others in the community who are most in need.
During the festive season teams at Livewell have been organising donations for local food banks, bringing Christmas spirit to our inpatient wards with Christmas carols, organising Christmas lunches and activities for those less fortunate, and much more.
Instead of a 'secret Santa' gift exchange, Livewell's Children's Speech and Language Service have chosen to support Toilet Twinning, a charity that enables families living in poverty to have lifesaving loos, clean water and hygiene education.
Nicki Drake, Speech and Language Assistant said:
"There are so many worthy causes to support at this time of year! Instead of buying a secret Santa gift, we donated what we would have spent and have managed to raise enough money to fund a toilet in The Democratic Republic of Congo with the hope of funding a second one in the New Year!"
For more info about Toilet Twinning visit: https://www.toilettwinning.org/
Pictured above: Children's Speech and Language team members.
Livewell's Public Health Nurses have been collecting for the Plymouth Food Bank, donating a brilliant 72.72kg of food which will make a big difference to local people in crisis.
Tori Land, Public Health Nurse said:
"It's so lovely to help others less fortunate. Frosty the snowman also joined in to get us in the festive spirit!"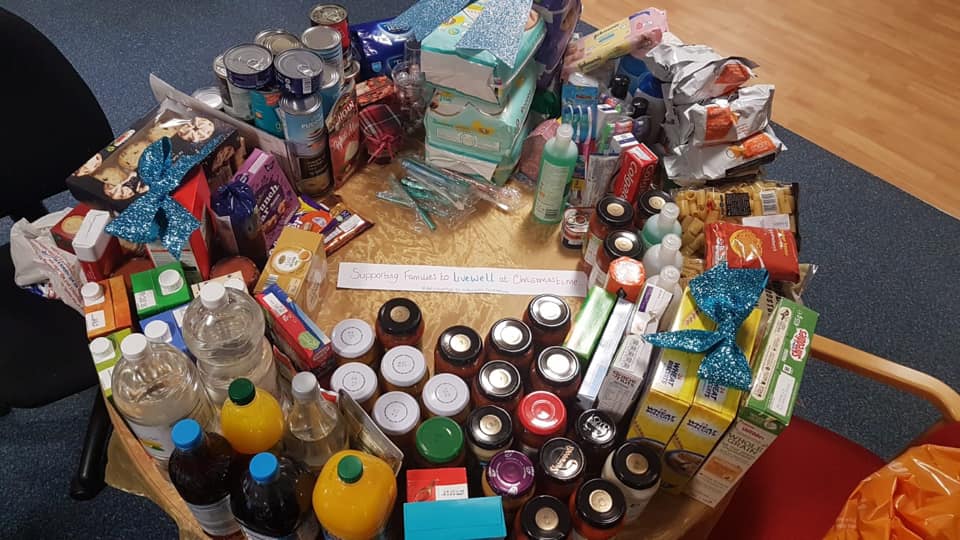 Pictured: Food donations – supporting families to live well at Christmas.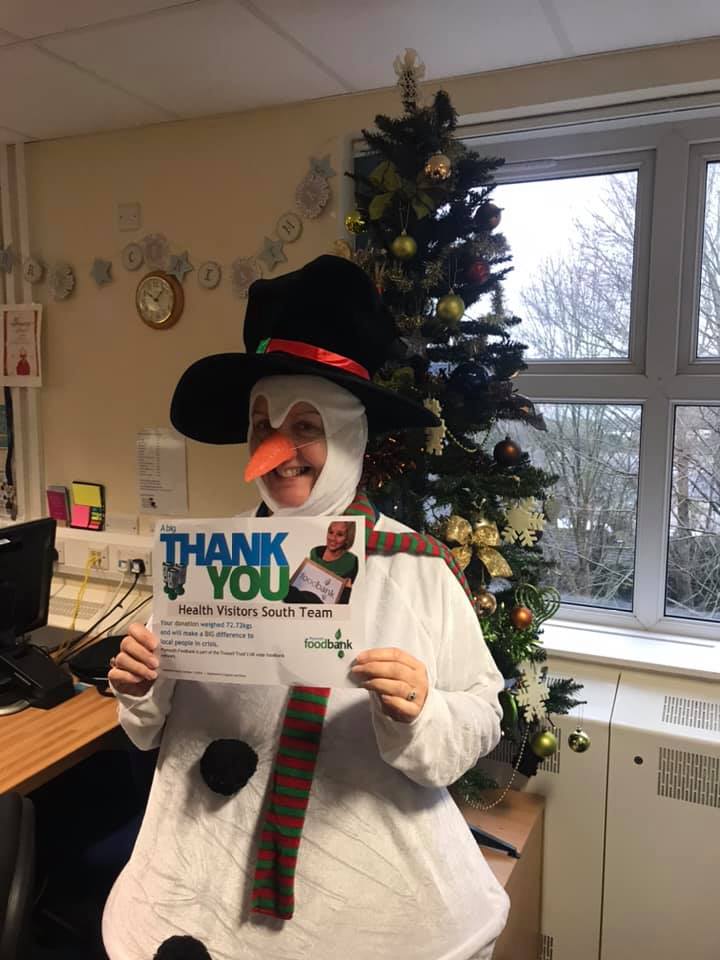 Pictured: Frosty the snowman, also known as Sharon Prowse, Public Health Nurse.
Gill Miller, Organisational Development Lead at Livewell is collecting donations for the women's refuges run by Plymouth Domestic Abuse Services (PDAS).
Gill said:
"I am asking people if they would like to give a small gift to these ladies. Bath sets, skin care or beauty gift sets all welcome. Equally adult and child PJs and slipper socks would also be appreciated."
"The refuge staff do an amazing job looking after women who take that brave step to find their courage, and find a better safer life for themselves and their children. PDAS give these families somewhere safe to go and start again, but often these women and children leave with nothing beyond the clothes on their backs.
"Giving their children a Christmas under these circumstances is hard enough. I've spoken to the brilliant staff running these refuges and they've said that what would really help is pamper stuff.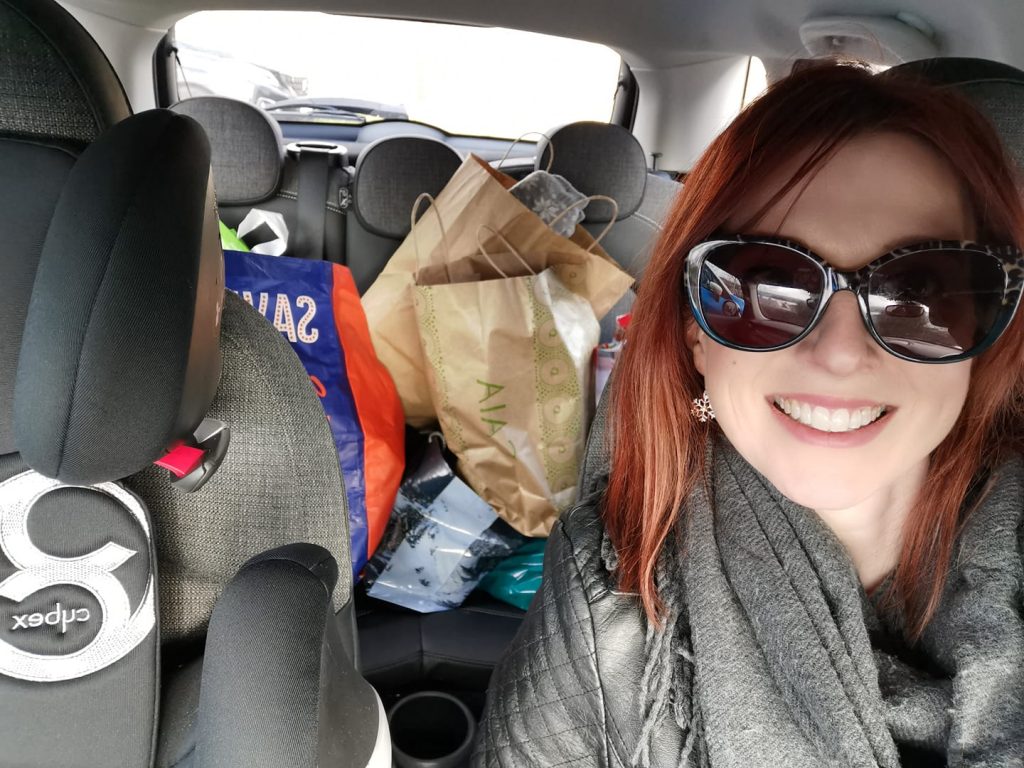 Pictured: Gill Miller, delivering the second car load of donations to Plymouth Domestic Abuse Services.
Instead of sending Christmas cards to each other, Livewell's Tissue Viability and South Adult Social Care Team decided to donate to the Trussell Trust Food Bank.
Emma Hannaford-Hill, Community Nurse said:
"We had an amazing response. Thank you so much to my Livewell colleagues for your generosity."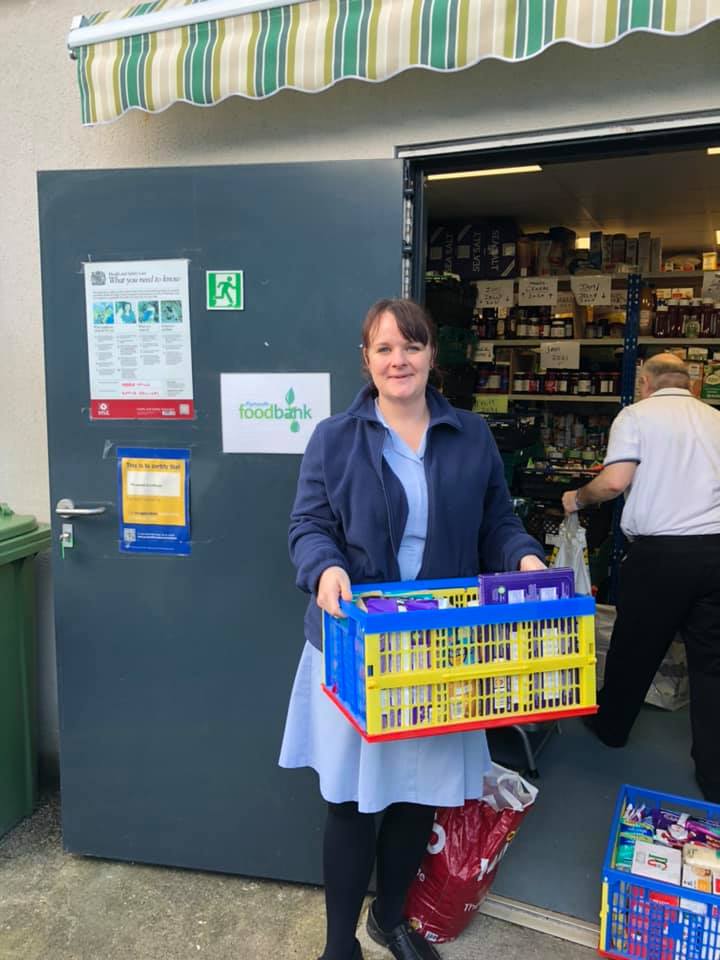 Pictured: Leanne Mallett, Community Nursing Assistant.
In Tavistock, Livewell staff have collected toys and gifts for The Salvation Army Christmas Present Appeal. The gifts will then be wrapped and given to children who might not otherwise receive a Christmas present.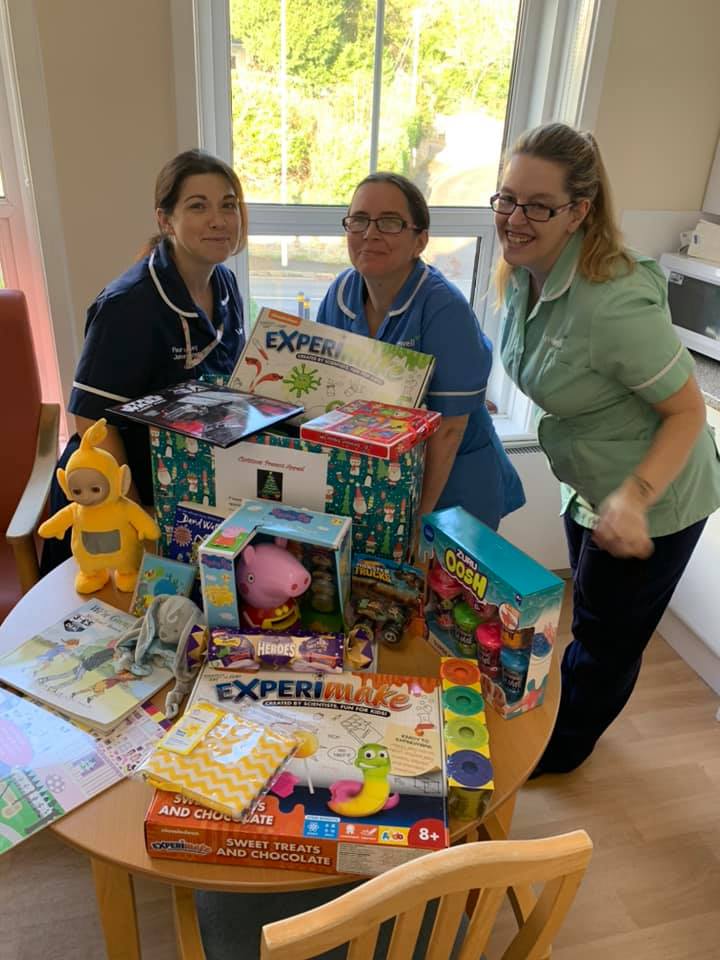 Pictured: Fleur Varney, Junior Sister, Sarah Houghton, Registered Nurse and Sue Miller, Health Care Assistant.