On Monday 27 January Philippa Geddes, Regional Engagement Lead at Social Work England visited Plymouth to meet Social Workers from Livewell, Plymouth City Council and colleagues from Devon Clinical Commissioning Group.
Social Work England is a specialist body taking a new approach to regulating social workers in their vital roles. They believe in the power of collaboration and share a common goal with those they regulate—to protect the public, enable positive change and ultimately improve people's lives. ​
Philippa was here to talk about the new professional standards for Social Workers, which took over the Health and Care Professions Council (HCPC) regulations in December 2019.
Philippa said:
"Social Work England's professional standards are specialist to the social work profession, they reflect the value and diversity of social work practice and the positive impact it has on people's lives, families and communities.
"The professional standards set out what a social worker in England must know, understand and be able to do after completing their social work education or training.
"The standards are underpinned by guidance intended to support social workers to understand the standards and to uphold them in their practice so that social workers can maintain their registration."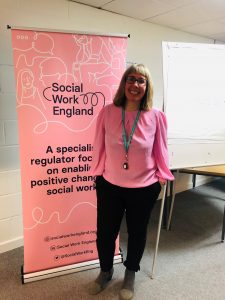 Pictured: Philippa Geddes
Kerry Dodd, Principal Social Worker at Livewell said:
"We really appreciated Philippa coming to talk to us and explain the new social work regulator role and professional standards, as well as some of the challenges and expectations of the new regulator.
"The visit was very successful and we had positive feedback from social workers about how helpful it was to discuss how to record Continuing Professional Development and how to upload documents.
"It was a wonderful opportunity to chat to social care colleagues from other organisations and share learning and experience in a collaborative way."
For more information about the new professional standards, click here.