Armed Forces Week took place last week, and was an opportunity to discover more about the work of the UK Armed Forces and celebrate different parts of the military including veterans, cadets and the valuable contribution that reservists make.
It was a chance to say a big thank you to all the men and women who make up the military community. Here at Livewell Southwest, we have a number of colleagues with military connections, and we'd like to share their stories.
Commodore Peter Coulson, Naval Base Commander Devonport, said: "Here in the UK, it has been our privilege to make a small contribution to the national effort of defeating COVID-19, working alongside so many other wonderful groups – in the NHS, the Blue Light services, Social Care organisations, the charitable sector, individual volunteers and more. I believe this has revealed the latent strength and character of our community in the city, and wider across the UK. It's a reminder that the qualities we celebrate on Armed Forces' Day are present throughout our society."
Ian White, Community Nurse at Livewell Southwest's Westbourne Unit, served in the Royal Navy between 1978 – 1989. Ian was a Leading Hand, responsible for the smooth and safe operation of his team, helping people to meet their goals, and mediating any concerns. Ian said: "My time in the Royal Navy was amazing and I have incredible memories including HRH Earl Mountbatten's Funeral Gun Crew, six tours of the Falklands and I even played hockey for the Royal Navy as a goal keeper.
"I'm now a member of the Royal British Legion and involved in supporting Combat Stress, the UK's leading charity for veterans' mental health. I'm really keen on giving back to our local community and help to organise fundraising events for Help for Heroes."
Andy Field, Resuscitation Officer in the Professional Training and Development team at Livewell Southwest, is very proud to also currently serve as the Coxswain at HMS Vivid, here in Plymouth. A Coxswain is someone who is in charge of a small boat. Andy is also the Chief Petty Officer in the Reserves, responsible for discipline, high principles for proper conduct, equality, diversity and inclusion.
Andy said: "The Royal Navy and Royal Navy Reserve have six core values – courage , commitment, discipline, respect, integrity and loyalty, of which I use daily to improve my job as the Resuscitation Officer within Livewell.
"I served in the regulars from May 1983- July 2010 (27 years) with both the Royal Marines, as a medic, and on three different ships. I undertook three operational tours of the Northern Arabian Gulf, Iraq and Afghanistan.
"I thoroughly enjoyed my time in the Royal Navy and would do it all again, which I suppose is why I am a member of the Royal Navy Reserve. I also have a national role as the Initial Naval Training Assistant Trainer Manager, responsible for ensuring all Royal Navy Reserve national courses have the right amount of trainers to deliver core naval training.
"I'm a member of the Royal Naval Medical Branch Association, its aim is to foster the spirit of comradeship found in the service. We hold annual reunions and gatherings across the UK."
Tracy Brooks, Healthcare Assistant at Mount Gould, joined the Women's Royal Naval Service when she was 17. The Women's Royal Naval Service, popularly and officially known as the Wrens, was the women's branch of the UK's Royal Navy. First formed in 1917 for the First World War, it was disbanded in 1919, then revived in 1939 at the beginning of the Second World War, remaining active until integrated into the Royal Navy in 1993.
Tracy said: "I joined HMS Raleigh and served at RNAS Culdrose and Fort Southwick in Hampshire. I left four years later when I had my first son. I was an able Wren but had passed for Leading Wren.
"My job was primarily communications, and the skills I learnt during that time have been invaluable. I was shown how to respect leadership, my colleagues and not to let them down, which is how I conduct myself at Livewell."
Tracy is involved with the The Association of Wrens who welcome former and serving Royal Naval and Royal Navy Reserve female ratings and officers. The Association was established in 1920 by WWI veterans to keep the spirit of the service alive. Tracy said: "In the future I would like to help with their mentoring scheme, run at HMS Raleigh. The scheme helps women in the naval service by providing support and advice as well as sharing knowledge, from others that have similar experiences."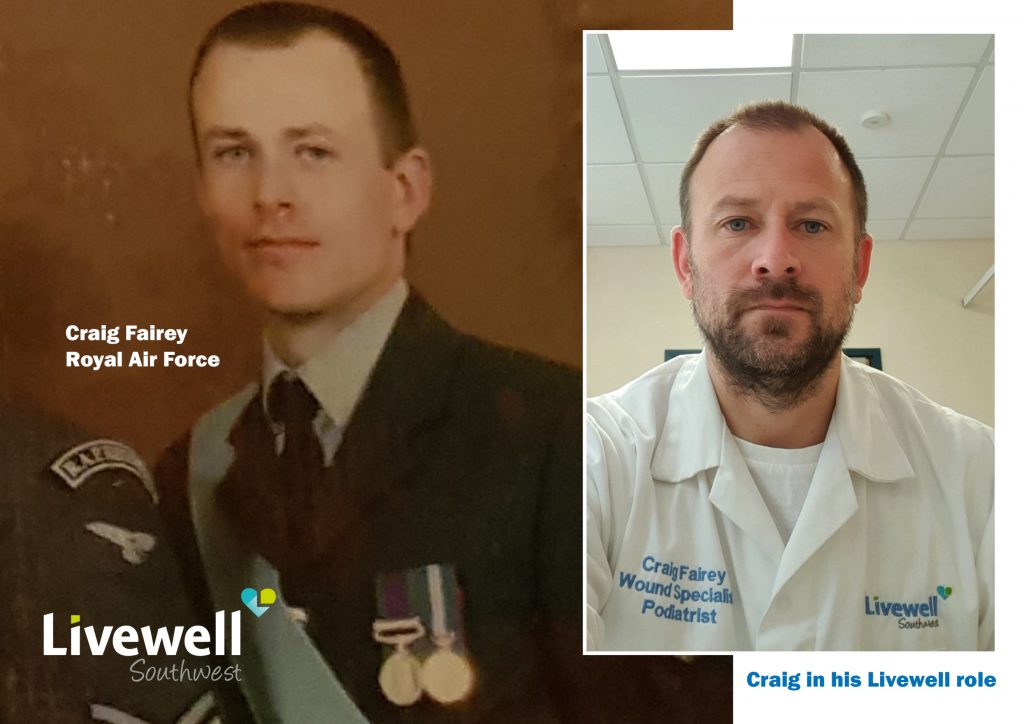 Craig Fairey, Wound Specialist Podiatrist at Livewell Southwest's Nuffield Clinic, spent 12 years with the Royal Air Force, in various roles, ending his military career as a Corporal. Craig said: "I had a great time, serving all over Europe, with operational tours twice in Afghanistan, three in Iraq and a quick trip down to the Falklands.
"The last part of my career was spent as an Instructor at RAF Halton, in Buckinghamshire, teaching fresh face recruits how to survive whilst on operational duties overseas."
Craig's podiatry role at Livewell means that he sees many veterans and serving personnel living locally and using Livewell services. Craig said: "having that connection to the patient makes the patient experience more enjoyable as "Military Banter" across service backgrounds is sometimes what makes the patient more at ease. This also enables me as a professional practitioner to gain more background to the patient which at times they are reluctant to give due to trust."
Jackie Britzman, Senior Psychological Wellbeing Practitioner, joined the Queen Alexandra's Royal Naval Nursing Service (QARNNS) in 1981 and trained as a general nurse within the Royal Navy. QARNNS is the nursing branch of the British Royal Navy and works alongside the Royal Navy Medical Branch. Jackie said: "I travelled down to Plymouth by train as a young 18 year old and fell in love with the coast line and the Westcountry.
"I worked at the Royal Naval Hospital, Haslar, and the Royal Naval Hospital in Stonehouse, which I loved. It was a small hospital and had a lovely community feel. I remember taking the patients out from the orthopaedic ward, into the colonnade, to enjoy the summer sunshine.
"I also undertook some of my training at Mount Gould Hospital, spending time within the casualty department. I nursed both civilians and military personnel and have very fond memories of them all.
"I loved the uniform which at times was quite impractical, having to keep my hat on my head was quite a balancing act at times!"
Jackie's time in the military prepared her well for life at Livewell, she said: "I nursed and worked with a wide range of different people and there was a great sense of camaraderie, friendship and teamwork. This experience has enhanced my ability to connect and empathise with people from all walks of life. It equipped me with the ability to be quite flexible and resilient at times of great challenge."
Jackie usually attends Plymouth Armed Forces Day, raising awareness around mental health, promoting the Plymouth Options veterans support service, and catching up with her armed forces friends in the city.
Rena Truscott, Senior Research Practitioner, served in the Royal Naval Reserves at HMS VIVID, in Plymouth. Rena's dad was in the Royal Navy and her brother and grandad served in the Royal Air Force. Rena entered the reserve as a rating, and later became an officer, reaching Lieutenant.
Rena said: "I worked in operations and intelligence roles, with secondments to work on NATO exercises around the UK and in Europe, including shore and ship based billets. My work involved gathering, analysing and reporting information to senior commanding officers, including Admirals.
"I loved the variety and scope of huge challenges and opportunities. My training included sea survival, fire-fighting, orienteering and first aid.
"A couple of highlights include: meeting the Queen, going in a helicopter and being winched down to a ship in Gibraltar, and working as a Junior Officer, overseeing university cadets sailing on a naval warship from the Bay of Biscay to Portsmouth."
The skills and experiences Rena gained during her time in the reserves have helped her to overcome challenges in her current role. Rena said: "The armed forces show you how to tackle difficult situations and deal with them, in a calm and professional manner. Analytical, logical and organisational skills help me manage multiple and complex research studies. I value the importance of good communication, training, honesty and humour to ensure great teamwork."
Rena is involved in a social network of ex-naval colleagues, supporting each other and still having fun together.