Livewell Southwest is thrilled to announce that we're one of the thousands of organisations taking part in this year's Giving Tuesday campaign, today (1 December).
Brought to the UK in 2014 by the Charities Aid Foundation (CAF), Giving Tuesday is the global day of giving and a chance for everyone everywhere to do something to support the good causes that mean so much to them.
The global COVID-19 pandemic has caused dramatic repercussions around the world. According to CAF research, charities have reported a significant increase in demand for their services while more than half (53%) have suffered a drop in donations. Charities estimate they will see a £10bn funding gap and without help many may be forced to close their doors.
So this year, #GivingTuesday is focusing on taking something positive from 2020 and giving back at the same time for #GiveBack2020 either by donating to charity, reaffirming commitment to a cause, volunteering time or supporting others by simply helping a friend, neighbour or family member.
Livewell Southwest is the social enterprise delivering integrated health and social care in Plymouth and parts of South Hams and West Devon, and as a social enterprise, we're committed to giving back in whatever ways we can to our communities.
Last month, Livewell pledged to donate funds to St Luke's Hospice Plymouth, by teaming up with Pennies from Heaven, the UK's largest workplace micro giving scheme.
People at Livewell have the opportunity to sign up to this voluntary scheme, which sees their salary rounded down to the nearest pound, with the pennies donated to St Luke's. Small change really makes a big difference.
Dawn Slater, Director of People and Professionalism at Livewell Southwest, said: "As a social enterprise we're committed to continually deliver better care to the communities we serve. With this is mind, the Pennies from Heaven scheme is a fantastic opportunity to support a local charity, and one which helps so many local families at such a difficult time.
"2020 has been a year like no other. Many charities, including St Luke's Hospice have struggled to fundraise during COVID, lots of events and activities have been cancelled to ensure people are safe.
"I want to say thank you to my colleagues at Livewell Southwest, who'll be donating their extra pennies to a charity that does such fantastic work."
Steve Statham, Chief Executive Officer, St Luke's Hospice Plymouth, said: "On behalf of all of us at St Luke's – and the many local families who receive our compassionate care – I want to thank the big-hearted staff at our partner organisation Livewell Southwest for choosing us the beneficiary of your contribution to the Pennies from Heaven scheme.
"I am touched that despite there being many other charities also under huge extra pressure due to loss of income caused by the pandemic, you chose St Luke's. We don't take your support for granted and it is so appreciated – you are helping us ensure that our community remains a kinder place for people living and dying with terminal illness."
During December, Livewell Southwest will be promoting a fundraising advent calendar on social media, with a twist.
Each day at 7pm, Livewell will share a festive pet picture from one of its health and social care heroes, including the role they do and what they love about their job.
All funds raised through the advent calendar will be donated to Jeremiah's Journey, Plymouth, chosen by the people at Livewell Southwest.
Letty Greenfield, Events Fundraiser, Jeremiah's Journey, said: "It is wonderful to hear that you will be fundraising for our cause throughout December – thank you very much!
"Your fundraising idea sounds wonderful, and we are very much looking forward to seeing you efforts, especially your animals!
"Thank you again, your support is greatly appreciated and will help to make a real difference in the lives of grieving children and young families."
In addition to Livewell's advent calendar, Laura Owen, Healthcare Assistant, has given up her time to collect toys and gifts for people in Plymouth, living in poverty.
Laura said: "I'm helping to organise donations for people in poverty in Plymouth. We're doing food boxes and I thought it would be nice to give a small toy or gift, for each child within that household."I put out collection boxes at Livewell for people to pop a present in. Due to COVID, we've been collecting new donations of colouring books, pens, pencils, pencil cases, small toys, selection boxes, Christmas wrapping paper and tags. Everyone at Livewell has been so generous."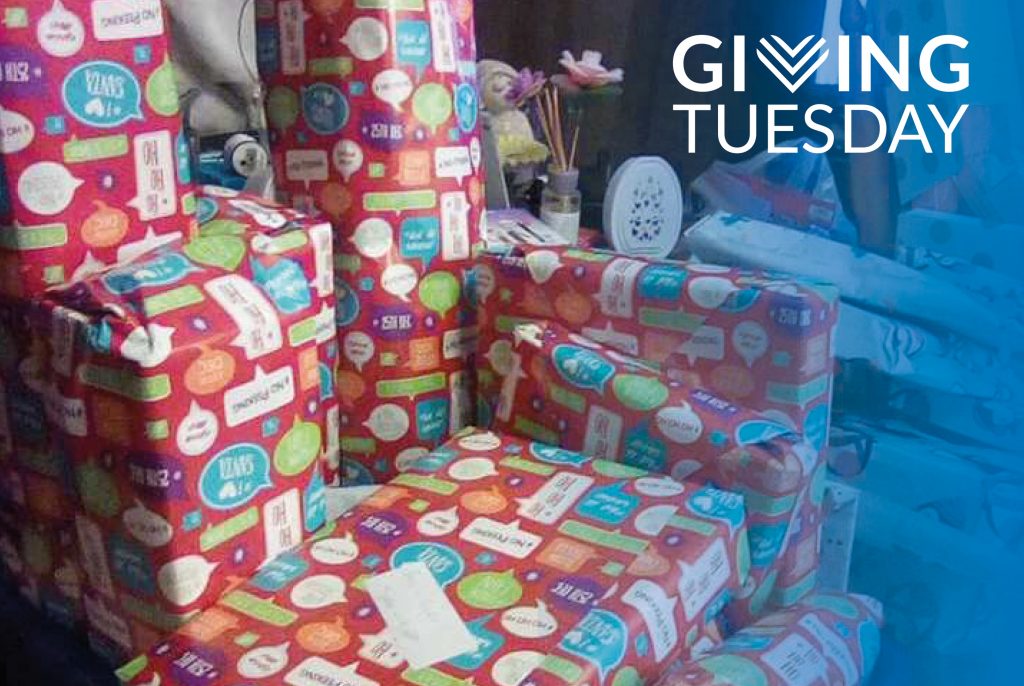 In 2019 #GivingTuesday was the top trending item on UK Twitter and generated more than 487m impressions. In the UK, more than £14.2 million was raised in online donations, equivalent to almost £10,000 per minute.
Gráinne Mathews, Giving Tuesday UK Lead at the CAF, adds: "Charities have given us so much this year, from vital food deliveries during lockdown, to developing new ways to deliver services so they could continue to help those in need; all while struggling themselves with cancelled fundraising events and closed charity shops.
"This Giving Tuesday charities need us to be there for them, like they've been there for us. It is time to #GiveBack2020. It's easy, just think of what you have – money, a voice, family, friends, followers, or time – and how that might help."
To find out more about Giving Tuesday, and how you can get involved, visit: http://www.givingtuesday.org.uk/