Plym Neuro Rehabilitation Unit's (PNRU) therapy garden has recently been freshened up ready for people to spend time in as the weather improves, while also forming an important part of the therapy being provided to the people the team cares for.
PNRU is a 15-bed inpatient facility at Mount Gould Hospital for adults with acquired brain injuries, spinal cord injuries and other neurological conditions. Gardening has huge benefits for both mind and body, and the team at PNRU have incorporated this as part of the occupational therapy that is provided at the unit.
Diane Kendall, Occupational Therapy team lead, said: "In recent months we've been able to resume our weekly gardening group as well as individual occupational therapy sessions in the garden, which have been enjoyed by all.
"Our initial focus involved including our patients in the general maintenance of the garden following winter. Depending on their abilities, some have helped with sweeping, clearing and weeding while some of our less mobile patients have tables set up where they can pot plants. It's already made a real difference to the garden, although we've got more work to do."
But it's not just about making a nice outdoor area. Taking part in gardening activities also enables the team to support their patients to work towards their rehabilitation goals while participating in a meaningful and rewarding occupation.
Diane explains: "While carrying out gardening activities we're also able to work on therapy goals relating to mobility, balance, power, and dexterity in upper limbs. There are also cognitive components around being able to plan, focus attention and work on communication difficulties, while being outside encourages discussion around what time of year it is and what's appropriate to plant.
"We also encourage participation in other ways. For example, some people have suggested decorative touches to improve the physical environment of the garden, while others have taken the lead on activities such as making the bird feeders which are now hanging from the tree in the garden. We've also constructed a bug hotel which was suggested by another person staying with us.
Diane continued: "Many of our patients are with us for many months, and feedback has been really positive. This sort of group allows people to participate in a leisure activity they would ordinarily do at home, and they also get the satisfaction of enjoying the garden outside of therapy time."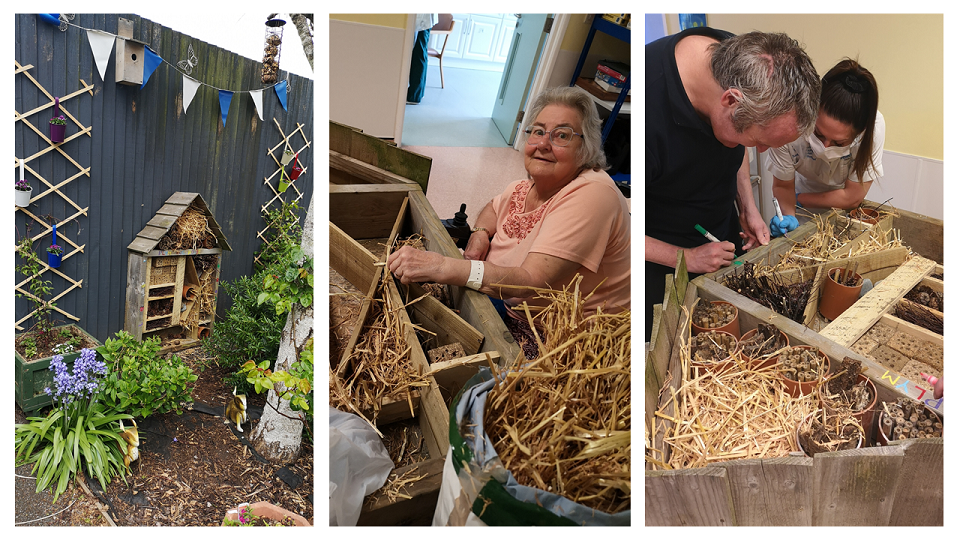 Above: The Bug Hotel, complete plus under construction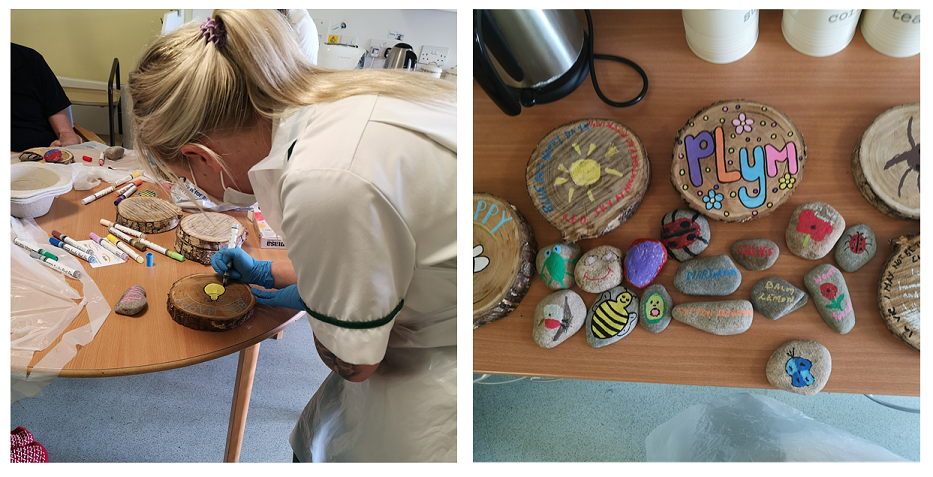 Above: Some of the decorative touches for the garden