Plymouth's Latch On Breastfeeding programme is celebrating a special birthday, having now spent 18 years supporting new parents!
As well as providing health and social care across Plymouth, Livewell Southwest's health improvement team offer prevention, intervention and training to help people lead independent and healthy lives. As part of their work, accredited breastfeeding peer support training is run three times a year, equipping volunteer peer supporters to facilitate the many Latch On groups throughout the city hosted by the Children's Centres. Peer supporters are also active on the post natal ward and neo natal unit at Derriford Hospital, as well as online.
The supporters are trained in helping new mums to feed, give support and encouragement and to be welcoming and respectful to new mums, babies and dads. While courses are traditionally run face-to-face, online sessions have ensured that new parents continue to be supported throughout the restrictions imposed during the coronavirus pandemic.
Sue Cheney, a now retired midwife, was there at the group's inception. Sue reflects: "I can hardly believe that it's been 18 years since the Latch On breastfeeding groups first started – although now I stop and think about it those early beginnings do feel like quite a long time ago.
"I'm lucky to have been one of a small group of people who helped to establish the first Latch On group as a way of offering both occasional and ongoing support to breastfeeding mums in an inclusive, informal and friendly environment. Having peer support as a fundamental aspect of the group was really important, as well as having a health professional for advice when needed.
"From the first Peer Support Training Course and the launch of Plymouth Latch On it was a great thing to be part of. Peer support was at the heart of what we tried to do then, and remains so, and I remember the dedication and determination shown by the many volunteer peer supporters.
"I retired from my role as Breastfeeding Co-Ordinator for Plymouth in 2010. At that time there were eight Latch On groups, and peer supporters regularly went in to see new mums in the maternity unit.
"I'm delighted that Latch On has continued to grow, flourish and offer help and support to countless women over the years. I am so proud to have been a part of it and feel incredibly privileged to have worked with so many wonderful people."
Mandy Chapman is the award-winning health improvement practitioner who now leads Latch On for Livewell. Mandy took a look back at her own journey:
"I initially heard about the Latch On breastfeeding group back in 2003 when my baby was 5 months old. I had moved to Honicknowle and my health visitor suggested I go along to the newly set up group at the café in Tesco Transit Way.
"I really enjoyed the group, meeting like-minded mums and building a social circle, so when training was offered to become a peer supporter I jumped at it.
"That first training was held at the Foyer, just off Union Street and I found it a great experience learning more about how breastfeeding works and how to help other mothers.
"I became a peer supporter, first at Tesco then as the groups grew at Sweetpeas in Mannamead and at Dell in Efford. I had taken on the bra fitting service as well so was a familiar sight with a large pink suitcase traveling between groups!
"In 2011 I applied for the job as peer support mentor to assist with the peer support training and to support the peer supporters in their role, and as time went on I gradually took the responsibility to deliver the training course and later to help support the mandatory infant feeding training for midwives and health visitors.
"Currently, I deliver three courses a year of peer support training, co-deliver the infant feeding mandatory training, and support the peer supporters and children's centres with queries.
"The initial group at Tesco transit way has grown into a whole network, and now also includes virtual support through our Facebook page – this has been especially useful over the last year while we waited for face to face groups to be able to start again.
"I'm immensely proud of the service we offer to breastfeeding families in Plymouth and never could have dreamed that going to that new group 18 years ago would lead not just to a full time job but a vocation."
To find out more about Plymouth Latch On Breastfeeding Groups, including details of support groups and training available, please visit www.plymouth-latchon.org.uk/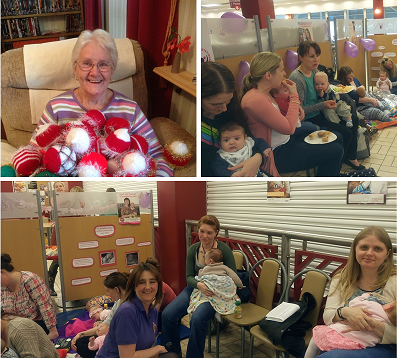 Above: Knitted breasts at Christmas, and the Latch On 13th birthday at Tesco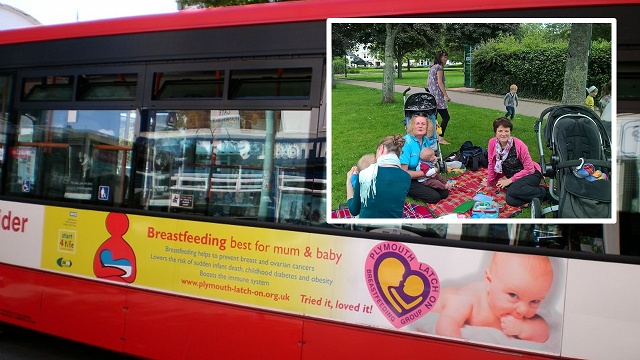 Above: A breastfeeding bus and a picnic in the park!
Last year, for Volunteers Week, we caught up with some of the Latch On Peer Supporters to find out what they thought of the programme. You can see what they think below…