Livewell Southwest has launched a new dedicated text messaging service to support new mums and mums-to-be in Plymouth who might be struggling with their mental health.
MumsConnect will offer friendly support and signposting from trained peer supporters via the ChatHealth confidential text messaging service which is also used by Livewell's Health Visiting and School Nursing Services.
Unlike those services, MumsConnect won't be able to provide medical advice but peer supporters may be able to signpost you to more appropriate services.
The new service is believed to be the first in the country to offer this type of service for peer support.
It has been developed as part of Livewell's Perinatal Peer Support Service which supports women experiencing low level perinatal mental health issues in accessing support from other women who have been through similar experiences and issues.
Jen Scarborough, Peer Support Facilitator, Perinatal Mental Health Team, said: "The COVID-19 Pandemic has been so hard for everyone but particularly new and expectant mums who have sadly missed out on so many experiences.
"A lot of the mums we support in the peer groups have felt isolated and upset that they've not been able to do the special things you normally get to do with a new born baby. It's left many feeling anxious and those feelings can impact on their baby and their bonding and experiences.
"While we know how valued and vital the peer support groups have been, we also know that there are some mums who just aren't ready or confident to attend a group or who might have transport issues. So, this way we can continue to support them via a safe and secure network."
MumsConnect will initially operate between 9am-12noon on Mondays, Wednesdays and Fridays and on Tuesdays between 6pm and 8pm, with the supporters aiming to respond within 48 hours. As well as offering support, peer supporters will be able to signpost to other services such as Health Visitors or Livewell's Crisis Response Lines for example.
The peer supporters will be supported by Jen and the wider Perinatal Mental Health Team too.
Jen added: "MumsConnect is being provided by our fantastic peer supporters and so this service is really more about providing support and signposting.
"Our peer supporters are still on their own journeys of recovery so it's important we protect them as well as those accessing the service so we will be looking really closely at people who want to access the service to make sure it's right for them and their needs."
If you want to find out more about MumsConnect and think you might benefit from the service, please email [email protected]
Caroline Palmer, the clinical lead of the Digital Health Transformation Service that have helped Livewell Southwest to set up their ChatHealth messaging services, said: "It's fantastic to see ChatHealth being used for the first time by a peer support network to provide an alternative way to connect mums together and support each other in a safe and accessible way alongside their established group meetings.
"ChatHealth is a secure messaging platform, which allows the peer support workers to respond to messages and ensure that no message is missed."
The Perinatal Peer Service also runs two face-to-face groups each week. One meets every Wednesday, 10am-12noon at Four Greens Wellbeing Hub in Whitleigh Green. The other takes place on Fridays between 1pm-2.30pm at the Rees Centre Wellbeing Hub in Plympton.
Virtual groups also take place every Monday, 10.30am-11.30am via MS Teams.
For more information about the Peer Support Group, or to sign up, please email [email protected]
What our Peer Supporters and mums have to say:
Claire Bailey
Claire has recently joined as a Peer Supporter and will be supporting the programme through the face to face groups and MumsConnect.
A stay at home, mum-of-five boys, Claire experienced her own heartbreak a few years ago when she sadly lost her daughter.
Claire said she wanted to be able to give something back to her community and support other women who might be going through a difficult time.
She said: "I suffered from depression for a long time after having my second baby and I didn't go to the GP for a long time to ask for help because I was afraid he would be taken off me.
"We also lost our little girl when I was 22 weeks pregnant and I struggled with that for such a long time. It's something that you never get over but you do learn to cope with it as each day comes. It can be lonely to be a stay a home parent and those feelings can really start to spiral.
"So many mums must be feeling anxious after being in lockdown so I really want to use my experiences to support others who might be going through a similar experience or might be feeling low. I want them to know that it's okay and normal to be feeling that way and offer some reassurance. I think MumsConnect is such a brilliant idea and will hopefully help those mums who might be feeling low and not confident to come and meet us face to face, to reach out."
Hannah Wilkinson
Hannah had a traumatic birth with baby Margot and was diagnosed with postnatal PTSD. She was referred to Livewell's Perinatal Mental Health Support Team for EDMR treatment. Once she was mentally in a better place, she also joined the Peer Support Group. Hannah says the group provides a safe and friendly space for her and Margot. She wants other mums to know about the group so they can benefit from the support if they need it.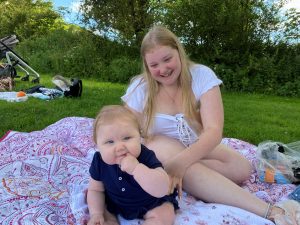 She said: "I had a really rough time giving birth to my daughter Margot and I was diagnosed with postnatal PTSD. The support I had from the Perinatal Mental Health Team was incredible and has made me a better mum. I was able to process my birth trauma and PTSD and was told about the peer support group after my treatment. Without this support, Margot probably wouldn't have her mum. I was a total mess and I would be nothing without this group. This group has been amazing, it doesn't matter what anyone else has gone through everyone is just kind and compassionate and relatable.
"There's no judgement here and the group gives me something to look forward to. I would be lost without this group and the people here, I feel very lucky that I've been able to come here. They're like my sisters! It really helps if you have anxiety having somewhere to go and it really helps meeting with other mums who are feeling exactly the same.
"We all do things differently and coming here makes me realise there is no right or wrong and that I am being the best parent to Margot. She loves seeing new faces and is always happy to be here, it's really benefitted her and her development especially during COVID when we weren't able to see other people."
Stacey Chope
Stacey, who works at University Hospitals Plymouth, is another mum attending the Peer Support Group with baby Alex who is eight-months-old. Stacey also has a 19-month-old daughter, Sophia. Stacey struggled with her pregnancy with Alex due to how close it was to Sophia's birth. She has been coming to the weekly peer support group since January.
She said: "I found my second pregnancy really hard because it was so soon after having my daughter and I was full of emotions and hormones so it really took me by surprise and I had a difficult birth experience with Alex too. I was in hospital for 11 days and unable to see my daughter the whole time I was in hospital because of COVID which was a real struggle.
"When Alex was born I found it really hard to bond with him which just made me feel worse. I had some great support from my Health Visitor and Beth Costello, Family Health Worker, who did some baby massage sessions with me which really helped me and Alex to bond. My Heath Visitor also told me about the Peer Support Group which has been a life saver. Without this group and Jen, I don't know where I would be. I wanted to go away and not come back which would have been awful for my partner and my babies.
"Now I am a completely different person thanks to this group and the other girls who attend. Me and Alex are so close, I have beautiful cuddles and snuggles with both of my babies. I love meeting up every Wednesday and catching up with everyone, I feel like I have made friends for life.
"My advice to other mums feeling like me is to put a brave face on and just go for it! I was so anxious but everyone is so welcoming. You've got nothing to lose by coming along, just see how you get on and if it's not for you, you can leave whenever but I want other women to know that you're not alone and there are so many of us here to help you."